View this email as a web page
Gaffney's Fishing Guide Service
2018 Fishing Guide Trips
Greetings fishermen! Now is the time to start making your fishing plans for the upcoming Summer/Fall/Winter season.
If you are looking for the best steelhead fishing charters in Washington state, Gaffney's salmon and steelhead fishing guide service is the answer! Gaffney's Fishing Charters serves many of the Pacific Northwest's popular salmon fishing rivers, including Cowlitz, Chehalis, Satsop, Kalama, Hoh and Humptulips rivers, and the lower Olympic Peninsula.
We know some of the best places to take our fishing charter clients for salmon fishing in Washington's rivers, and we will teach you how to catch the big ones, just like these folks did! Our fishing charter service will provide top notch guides and thrilling adventure, chasing trophy salmon and steelhead on some of Washington's finest rivers in our drift boat and jet sled.
Here is a breakdown of the fishing trips Gaffney's has to offer for the coming 2018 - 2019 fishing season:
August 15 - October 15
Chinook salmon trips. I will be fishing the Puget Sound on our saltwater trips, Puget Sound rivers (Nisqually, Snohomish river), Grays Harbor and Southwest Washington area rivers either with our powerboat or drift boat.
---
October 15- November 31
Fishing for Coho and chum salmon trips in the Grays Harbor and Southwest Washington area rivers.
---
Fee Details & How to Book a Trip
We can accommodate up to 5 anglers per day and will be operating out of our 17' drift boat or 22' Powerboat.
Rates are $225 per angler for full day fishing trips.
Visit our website for more information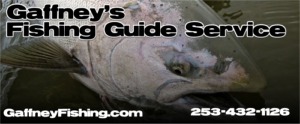 Visit our website to join our mailing list.
This message was sent to you by Gaffney's Fishing Guide Service.
If you wish to unsubscribe from this newsletter, please send an email to gaffneysfishing-unsubscribe@gaffneyfishing.com