Hoh River Fishing Charter and Guide Service
The Hoh River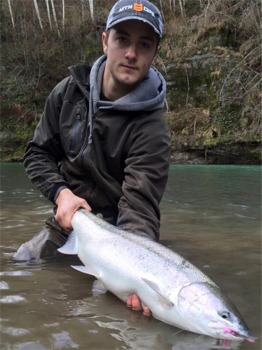 The Hoh river, located in the heart of the Olympic Rain Forest in the Olympic peninsula area, provides year round fishing opportunities, with summer Steelhead salmon running from December through March, King salmon running in July - October and spring King salmon (springers) are fished in March - June.
The Hoh river is by far my favorite place to fish and is one of the last places you can find true wilderness on the Olympic peninsula. Fishing for winter steelhead in February - April and summer steelhead August - September, not only do you have a chance of hooking over 15 Steelhead salmon in a day, but also the chance of spotting a heard of elk or a bear crossing your path while floating down river.
Guided fishing trips on the Hoh river include drift boat fishing, power jet sled and fishing right in the river with hip waders.
Trip Pricing
Gaffney's Washington fishing guide service will help you learn how to catch the big ones on the Hoh River, just like these folks did!
Full Day Guided Fishing Trip Pricing
On our full day fishing trips, you will
learn to catch your own fish on the
Hoh River of Washington State.
$275 per fisherman per day
Hoh River Fishing Photo Gallery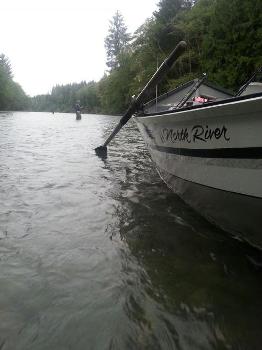 Wading in the river fishing for Hoh river Steelhead.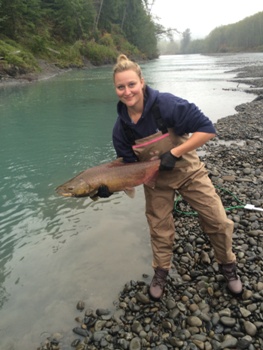 Nice looking Hoh river King salmon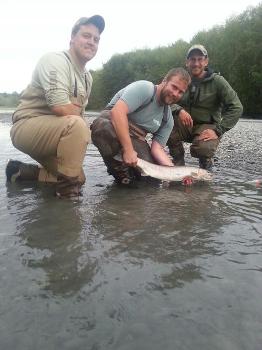 Hoh river Steelhead salmon.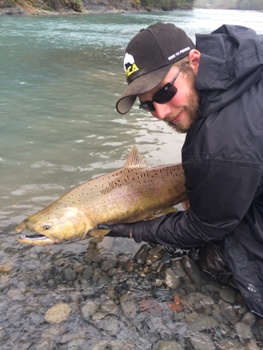 King salmon caught on the Hoh river.
Fishing Map of the Hoh River